Arya Zarinsefat, M.D. Recipient of Prestigious UCSF-Gladstone Center For AIDS Research (CFAR) Mentored Scientist Award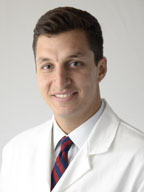 Sarwal Lab - by
- February 26, 2019
Arya Zarinsefat, M.D., a UCSF general surgery resident and research fellow in the Sarwal Lab, has been awarded a prestigious UCSF-Gladstone Center For AIDS Research (CFAR) Mentored Scientist Award.  Dr. Zarinsefat's research will focus on better understanding the genes and process of rejection in kidney transplantation of HIV-infected recipients. The study will apply an innovative method of discovering rejection in HIV-infected kidney transplants by performing DNA cytosine methylation sequencing of plasma samples of individuals with rejection.
Methyl-Seq is a novel next-generation sequencing method that utilizes restriction enzymes involved with cleavage of methylated DNA sites. These digested DNA are then sequenced and analyzed for methylated sequence reads. Methylated DNA has long been known to be an epigenetic marker for gene expression. In addition, this technology does not utilize assessment of peripheral blood mononuclear cells, which can be variably affected by the underlying HIV state and concomitant antiviral and immunosuppressive medications.
The hypothesis is that HIV-infected kidney transplant recipients with rejection will have a unique genetic signature in comparison to patients without rejection. This novel sequencing methodology will be utilized to better understand and map the genes involved with this process.
Dr. Zarinsefat is being co-mentored by Dr. Minnie Sarwal (expertise in sequencing and biomarker development), and Dr. Peter Stock (transplant surgery in HIV positive recipients) who has tapped him to establish a university-wide database of all HIV-infected transplant recipients, and to follow their long term outcomes.