This is a study about Kidney Function and the effects of COVID.
The project is led by an outstanding team of clinicians and researchers across five academic medical/research centers from the University of California system, Rush University, and the University of Michigan. The study will enroll and track 2,000 participants, half have tested positive for COVID-19 and the other half have tested negative.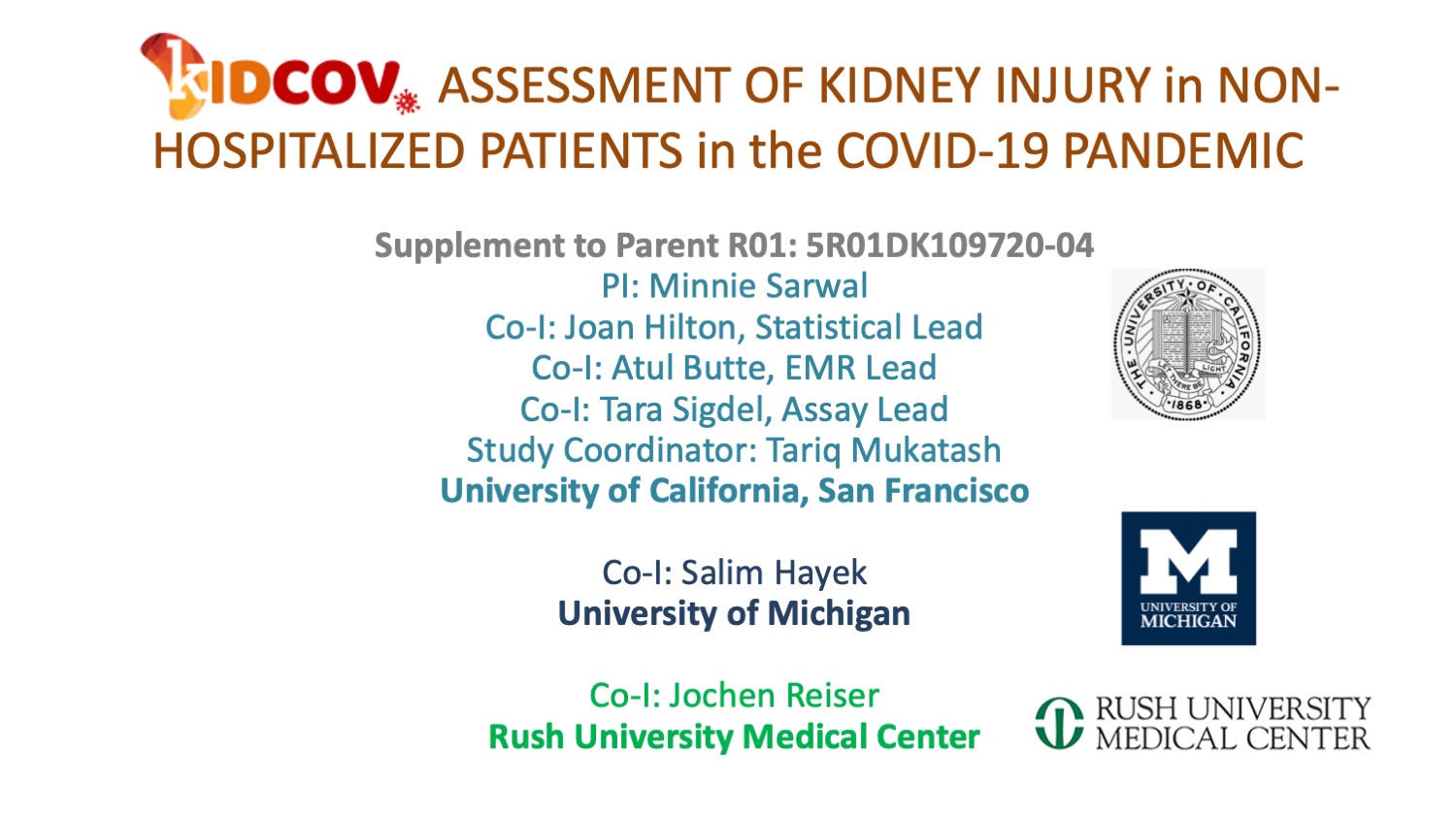 Program Overview
With the current situation regarding the SARS-CoV-2 (COVID-19) pandemic, there exists a cloud of "unknown" surrounding the effects this novel virus has on various body systems and the long-term effects that can linger. With the need to understand how COVID-19 both reacts and interacts with our bodies upon infection, The KIDCOV study specifically aims to learn about kidney injury and risk factors associated with SARS-CoV-2 (COVID-19) infection.
Through biospecimen collection, KIDCOV will study the burden and incidence of kidney damage amongst patients following COVID-19 infection. This study will obtain such information through processing urine samples to get an accurate reading via the urine Kidney Injury Test (KIT).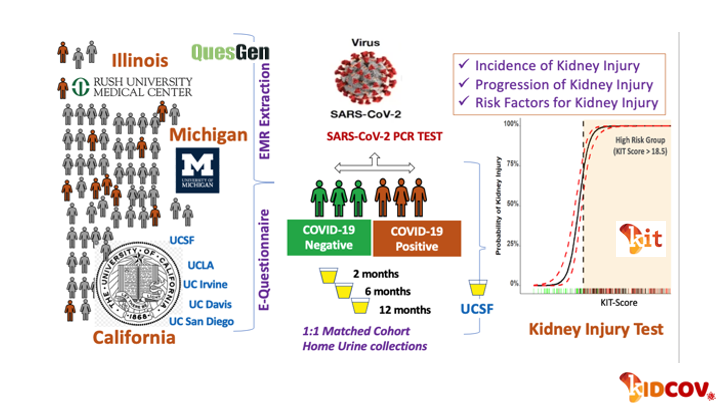 Core Values
The KIDCOV study adheres to a set of core values:
Participation in this study is voluntary, and declining participation will not affect the quality or standard of care received
Demographic factors and other risk factors are incorporated in this study without any biases
Transparency is instilled and practiced throughout the entire process. Every patient has the right to inquire additional information and an opportunity to address questions, comments, or concerns at any time throughout the entire process. Patients will be informed of how their data will be used, accessed, and/or shared amongst authorized research collaborators
We are committed to keeping all patient and identifiable information secure, keeping their privacy protected. All patient data is stored on a secure database, and only authorized individuals will have access.
Contributing Members
UCSF
Tara Sigdel, PhD
Minnie Sarwal, MD, PhD, MRCP, FRCP, DCH
Michael Jarrett
Joan Hilton, DSc, MPH
Atul Butte, MD, PhD
Rush University
Jochen Reiser, MD, PhD
University of Michigan
Salim Hayek,MD
UC Davis
Baback Roshanravan, M.D., M.S., M.S.P.H.
UC San Diego
Caitlin Carter
UCLA
Suphamai Bunnapradist, MD, MS
UC Irvine
Kamyar Kalantar-Zadeh, MD